These chocolate and chestnut biscotti are what the Italians call cantucci or cantuccini. A very similar cookie is named carquinyolis in Catalonia. These biscotti are somewhat sturdy but pack a great taste and they are easy to make because there is no butter creaming or egg whipping involved. Just throw all the ingredients together and you don't even have to use a cookie cutter.
These cantucci are typical of the Tuscan cuisine and they are hard cookies with whole almonds. The biscotti dough is first molded into a thin loaf (like a baguette) that is baked whole. Then this thin loaf is cut into slices that are baked again in the oven to harden. Wikipedia says:
"Biscotti" is the plural form of biscotto. The word originates from the medieval Latin word biscoctus, meaning "twice-cooked." It defined oven baked goods that were baked twice, so they were very dry and could be stored for long periods of time.
Everything is clear now, don't you think? Such educational blog this is, ahem.
I love chestnuts. Every year I cry my eyes out when the season is over. It's soooo short. In spring and summer I feel exactly the same about cherries. So when I found these cookies made with chestnut flour at Giulia's blog I had to make these chocolate and chestnut biscotti no matter what. Of course if you can't get hold of chestnut flour, they can also be prepared with regular wheat flour.
Chocolate and chestnut biscotti
Hard twice baked cookies made with chestnut flour and chocolate chips
Ingredientes
3 medium eggs
180g sugar (1 cup)
150g AP flour (1⅕ cup)
200g chestnut flour (1⅓ cup)
1 tsp baking powder
100g chocolate chips or chunks (0.5 cup)
100g raw almonds, blanched or whole (0.5 cup)
Instrucciones
Break the eggs into a bowl and add sugar. Stir until the sugar dissolves.
Sift the regular flour with the baking powder. Add eggs and mix well by hand or in a stand mixer with the paddle attachment.
Then add the whole almonds and chocolate chips, and mix the best you can to evenly distribute them.
Divide the dough in half and shape both halves into thin loaves as depicted in the images. Lay them on a mat or parchment paper and bake 25-30 minutes at 180º C, 355ºF (no convection).
When the loaves are golden brown and firm to the touch, remove from the oven and let cool 5 minutes. Then cut them into slices about 1 cm thick, be very careful as they quite brittle, and lay all the slices on a baking sheet.
Then bake in the oven again to dry them about 5-7 minutes per side, at the same temperature as before. Let cool on a wire rack. And they're ready to be devoured.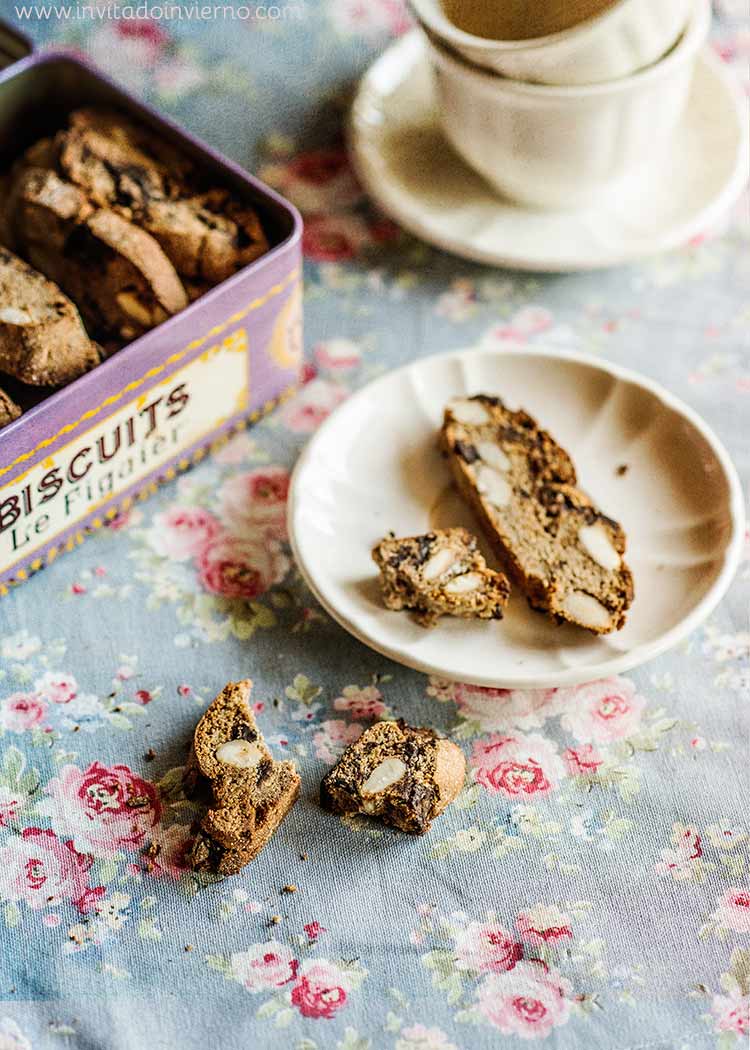 Store the cookies in a metal box and enjoy. They get softer with time, but they will be equally delicious. And I know I always say it, but I insist on using quality chocolate. It really makes a difference.
These chocolate and chestnut cookies ask for a glass of sweet wine or a good cava. Or champagne, if you can afford it…