Cantabria is a small region in the north of Spain (nothing to do with the Italian Calabria…), a humid, green, lush, beautifully mountainous region with the best dairy produce. These sobaos made with the wonderful Cantabrian butter are typical cakes from the Pas valley, that's why they are called "pasiegos", meaning "from el Pas". They are flat and baked in special paper cups called "gorros", literally "hats". By the way, the word sobao is pronounced like this.
Though nowadays sobaos are made like any regular cake, with cake flour and baking powder, they used to be made with bread dough before baking powder became popular, like many typical cakes in many countries. I wanted to try this old version and I don't regret it… not only do they have a marvelous flavor, but you get to use bread dough, which is always a plus for me. And also, for those sourdough enthusiasts out there, sourdough can be used. What could be better?
In fact, the name "sobao" comes from the verb "sobar", meaning rubbing or kneading, because the eggs, butter and sugar added to enrich the bread dough were rubbed in it. You can see it in the following video (in Spanish, but worth watching). I used a stand mixer though…
You'll need to make your own paper cups, the method is shown in the video, starting at 2:34. Yes, you can make them! I made them myself, and if I can, you can.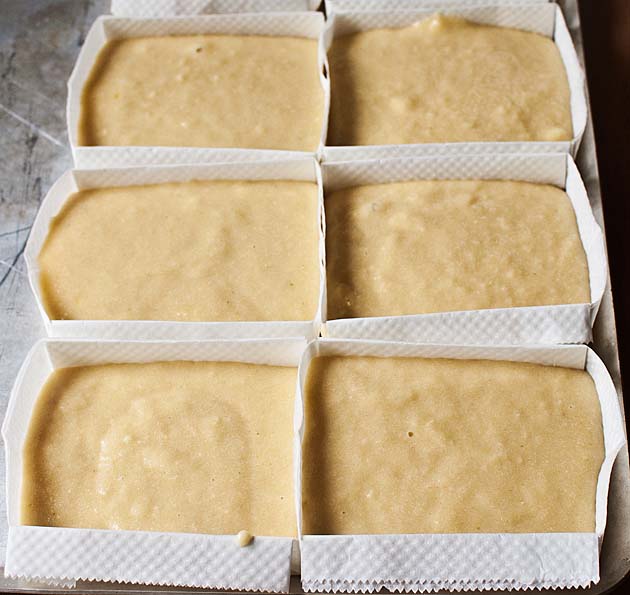 Sobaos from Cantabria
Recipe for flat buttery cakes typical from the north of Spain
Ingredientes
Bread dough
300g bread flour
200g water
5g dry baker's yeast
1 pinch salt
Or... wild starter
500g, 65% baker's percentage
Sobao batter
500g bread dough from the previous step
280g sugar
250g softened butter
2 eggs
8g baking powder (1½ tsp)
1 dash of anise liquor or rhum
Zest of 1 lemon
Instrucciones
If you use bread dough, prepare it by kneading the ingredients. Then leave it to ferment.
If you use a wild starter, start preparing it 1 or 2 days in advance, using your regular starter to make a 65% hydration starter. Ideally feed it a couple of times a day, to avoid excessive acidity. Although some people like the tangy flavor it imparts, as it is similar to the one buttermilk or yogurt give.
Mix the rest of the ingredients: sugar with lemon zest and baking powder, egg, liquour and butter, in that order, until everything is well blended. The batter should be quite runny, so that it can be poured into molds.
Pour the batter into the paper cups halfway (do not overdo it or it will spill over) and place the paper cups on a tray close together to keep their shape, as they tend to spill (1).
Cook the sobaos about 20-25 minutes at 170ºC (fan), always in the bottom section of the oven. In my oven the last 5 minutes you can also turn the overhead heat, to brown them properly (you know that if your oven is not fan-assisted you must increase the temperature by 15-20°C).
Notas
(1) If you use plain parchment paper, I strongly recommend you to make the cups with a double layer of paper.
And enjoy the true flavor of the Cantabrian valleys… 😉 . And if you want superb sobaos, use the best butter you can get your hands on, it's really essential.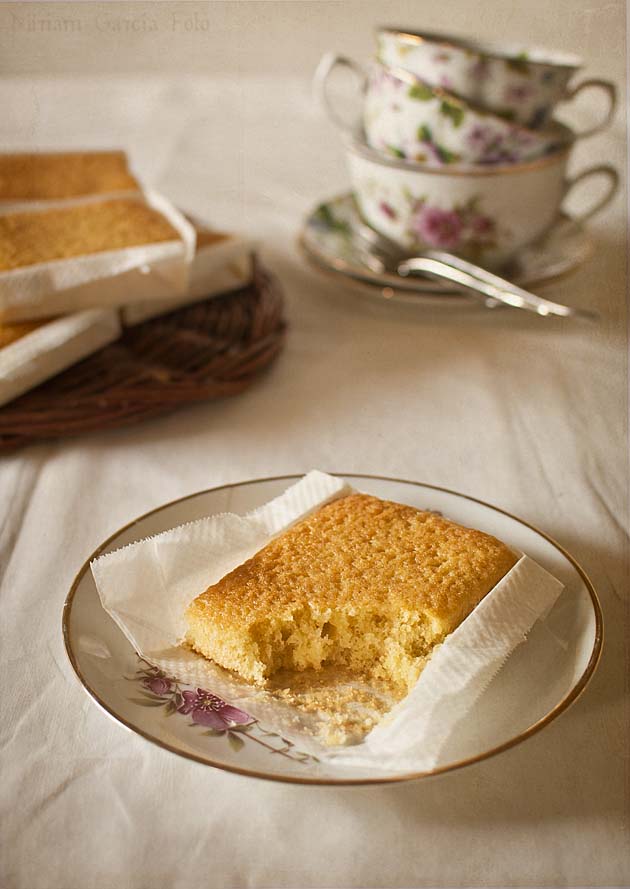 Did you like this post? Share with the little buttons below or subscribe to receive my recipes freshly made by mail or RSS.