This roasted tomato sauce is an experiment that follows the wise example of a friend of mine. In one of her last posts she talked about making tomato sauce with roasted tomatoes, an idea she took from a book by Nigel Slater. Not that roasting tomatoes for a sauce is a typical British habit… ahem. No, my dears, it rather looks suspiciously alike Catalan romesco sauce but without the nuts or breadcrumbs. That is, a little lighter than the original romesco, but with a delicious smoky flavor arising from the roasted tomatoes and garlic. And right in the middle of the tomato season, it is a great chance to depart from the ubiquitous sofrito de tomate, and also perfect for canning.
I prepared this sauce with some farmer tomatoes I bought from a peddler going from house to house… people do whatever they need to make a living in these difficult times. They were very good.
Roasted tomato sauce
Ingredientes
3 kg (6 pounds) ripe tomatoes
1 large onion
1 head of garlic
2 cayenne peppers (optional)
Salt to taste
Virgin olive oil
Instrucciones
Nothing easier to make: put the tomatoes, brushed with olive oil, on a tray and roast in a preheated oven at 200ºC (fan) / 220°C (no fan) along with the onion wrapped in foil and the head of garlic. Roast until the tomatoes are soft and their skin is blackened.
Watch the head of garlic and the onion, as they do not need exactly the same time as the tomatoes. The onion probably will take longer to be cooked through.
Take the vegetables out only when they're done. Let cool completely.
Skin the tomatoes, the skin will release easily. Peel the garlic and onion. Place everything into a powerful food processor or blender (I use the Thermomix) and process until you can detect no trace of tomato seeds, if possible. If you want to add a touch of spiciness, add the cayenne pepper before processing.
Season with salt and, with the food processor running, add a good dash of virgin olive oil, and emulsify well.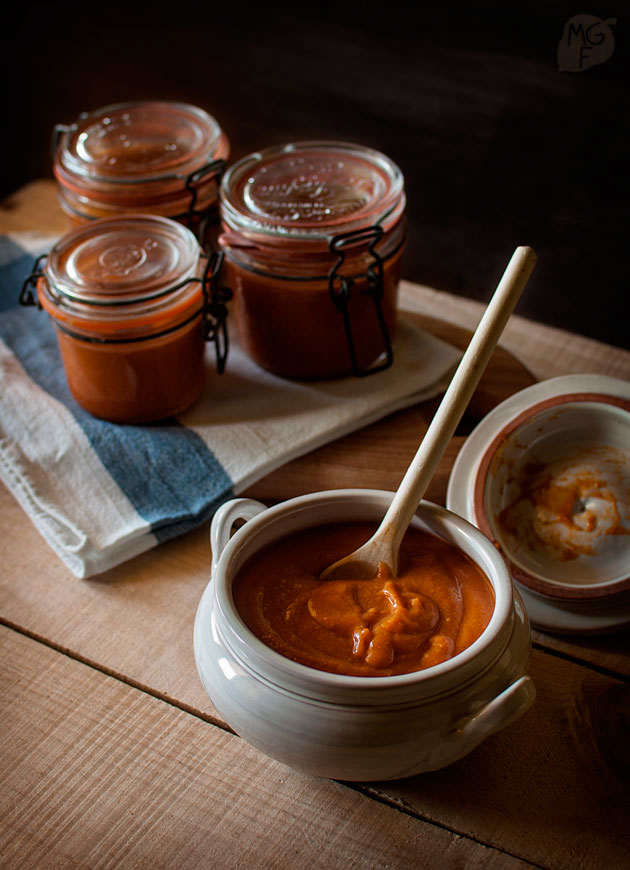 This sauce can be used almost for the same purposes as a regular tomato sauce… yes, also with pasta and pizza… great. Oh, and if you happen to find any novel use for it please be so kind to drop by to tell me ;).
Did you like this post? Share with the little buttons below or subscribe to receive my recipes freshly made by mail or RSS.