These Swedish rolls are baked twice: first to bake them and second, open in half, to crisp them. Yes, I know what your next question is: are they like the store-bought ones? Of course not, they're much better. Store-bought ones carry vegetable fats instead of butter. Vegetable fat, a wildcard name food companies use to accommodate all kinds of crap. Allowed by governments, of course. No, no vegetable fat in the world gives the flavor that butter does.
But back to the topic at hand, you can have these scrumptious rolls either open in half and toasted, or untoasted, buttery and fluffy as can be. The toasted variation is truly addictive. This recipe is based on the one in Jan Hedh's book Swedish breads and pastries. And this man is supposed to come from the very Sweden, therefore I assume the recipe is as authentic as can be (I reduced the sugar and cardamom, and increased the egg though).
Swedish toasted rolls
Typical Swedish toasted rolls
Ingredientes
Preferment
350g strong flour
10g sugar
260g full fat milk
5g dry baker's yeast (15g fresh)
Final dough
Preferment
230g strong flour
1 egg
10g salt
5g cardamom
70g sugar
120g softened butter
Instrucciones
Prepare the preferment by mixing all ingredients well, but without kneading. Leave to ferment well covered, until doubled in bulk, bubbly and risen.
Then mix preferment with the remaining ingredients except the butter. Knead by hand or with a stand mixer with the hook attachment. The dough will be quite sturdy and dry at first and requires some effort (approx. hydration 53%). It's worth developing the gluten to some extent before adding the butter, because fat interferes with the formation of gluten.
Allow the dough to rest 10 minutes and add the butter, little by little, until it is all integrated. Go on kneading until the dough is smooth and elastic.
Form it into a ball, place it in an oiled bowl and leave it to proof.
When doubled, divide it into pieces of 40-50 grams. Roll the pieces and form rolls. Needless to flour the counter or anything, because the dough is quite dry and buttery. Place them on a baking sheet, leaving room for them to expand, cover with a damp cloth or plastic and leave to ferment for a while. No need for the rolls to double now, as they grow like mad in the oven. You should form them carefully and tightly though, to prevent them from "exploding" in the oven.
Preheat the oven to 230°C with convection air in the meantime.
Once fermented (about 50% expansion), put them in the oven (air removed, radiation alone) and spray with water. Bake 9-10 minutes, while watching the rolls closely, because they bake quickly.
Transfer them to a cooling rack and allow to cool completely.
For toasting, open each roll with a fork (this is what gives them their characteristic uneven surface) and toast in the oven at 130-140°C, depending on your oven, so watch them from time to time so that they don't burn. If you make the rolls late, you can leave them drying overnight with the oven off.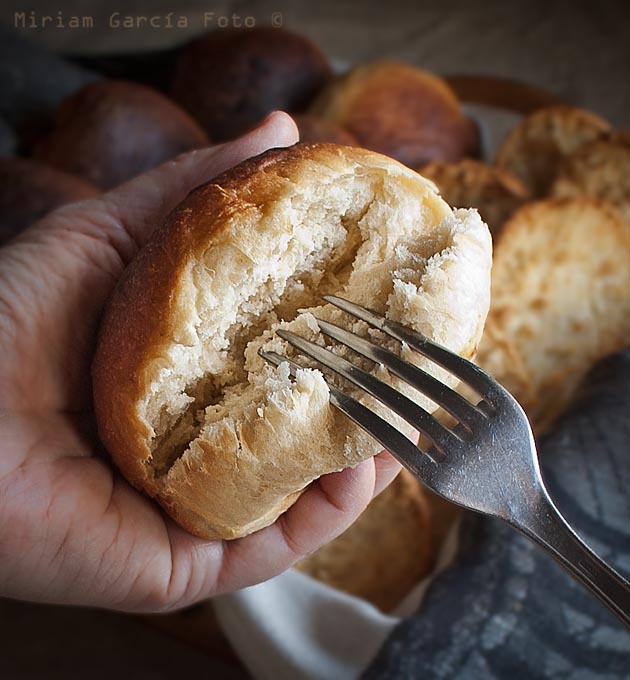 So, who are you? The plump and tender roll lover or the sturdy and crunchy slice lover?
I'm sending these rolls over to Susan's YeastSpotting 😉
Did you like this post? Share with the little buttons below or subscribe to receive my recipes freshly made by mail or RSS.