Empanadillas (meaning little empanadas) are patties stuffed with different fillings that are very popular around the country of Spain. Traditionally the dough was homemade, prepared by mothers and grandmothers… Making the dough at home may seem a little discouring at first, but although there are very decent versions of store-bought empanadilla doughs, they don't stand the comparison with a good freshly made homemade dough. So today we're making homemade tuna empanadillas with homemade dough and all. Let's get it over with.
Being that many of us have stand mixers and similar appliances in our kitchen, making a homemade empanadilla dough is no longer as time-consuming as it was to our mothers and grandmothers. I still remember how sometimes I helped my mother to cut dough into rounds when I was little.
This dough is primarily made of a weight of liquid (water, wine or milk), the same weight of fat (olive oil, lard or melted butter) and as much flour as it can absorb. Some people prefer to use a smaller proportion of fat or to substitute an egg for some of the liquid and fat.
Empanadillas are traditionally fried in olive oil but if you find this a bit high on the calories side, you can always brush them with egg and bake them in the oven. They're equally good.
School of Tapas: Traditional tuna fish empanadillas
Typical homemade patties filled with a traditional filling of tuna fish, hard-boiled egg and olives
Ingredientes
Empanadilla dough
110 g of water, wine or milk (or a mixture of water and milk)
110 g olive oil (or melted lard)
340-350 g of pastry flour
½ teaspoon salt
Tuna filling
2 hard-boiled eggs
1 handful of green olives cut up in pieces
180 g of tuna fish in oil, drained well *
Homemade tomato sauce to bind it all together
Further
Plenty of olive oil for frying
1 egg, beaten if you are going to be baking the empanadillas in the oven
Instrucciones
Dough
Pour the chosen liquid in the bowl of a stand-mixer and add the salt.
Add the flour and mix well with the paddle attachment, until the dough is more or less homogeneous, but not very long to prevent the gluten from developing. It should be a soft dough, but not very sticky. If it sticks too much, add some more flour.
Make a ball, wrap it in plastic and let it rest for at least an hour for it to relax.
Tuna stuffing **
Boil the eggs 10 minutes and reserve in cold water.
Cut the olives, put them in a bowl and add the drained and flaked tuna.
Add the peeled and chopped eggs. Finally add the tomato sauce and mix well until you have a more or less homogeneous and juicy filling.
Assembling the empanadillas
Roll the dough thin (not more than 2mm) on the counter. There's no need to flour it because this dough is very fatty and does not stick if you have achieved the right consistency.
Cut circles with a pastry cutter or a large glass, about 12cm. You can also make miniature empanadillas, impossibly cute and also great as tapas or snacks.
Place a spoonful of filling in the center of the circles and close firmly pressing the edges with a fork, the handle of a spoon or picking the edge the Argentine way. You can see how in this video. I also brush the edge with some water, to make sure it sticks thoroughly.
The dough trimmings can be reused, but if you have enough time, make a ball and let it rest for a while, because otherwise the dough will tend to retract.
Once all the dough has been used, pour olive oil in a smallish but deep skillet. Heat to medium-high (below 180ºC) and fry the patties until golden brown. Place them on a paper towel.
If you want to bake them, place them on a tray and brush them with the beaten egg. Bake about 25-30 minutes at 180°C.
Notas
* Some people prefer the pickled tuna instead of the one preserved in oil.
** To lighten the task of making the empanadillas I advise you make the filling the day before. It is quick and it keeps well in an airtight container in the fridge.

Tips for great empanadillas
If you make the dough by hand, don't knead, just pat it and mix delicately. Otherwise quite some gluten will develop making the dough more difficult to roll and tougher.
Make use of good quality tuna if you can afford it, because you will notice the difference.
If you use homemade tomato sauce you will also notice the difference…
I do not like to freeze this dough, the result is not the same. I'm not saying that you can not do but it will feel different, especially the oil dough.
The dough has to be rolled really thin, no more than 2mm. Then it is more delicate to handle, but the result is much better. That is not so critical if you bake the empanadillas, but it certainly is essential for fried empanadillas.
Stuffed empanadillas should not rest very long before being fried or baked , the dough tends to dry , at least in the Castilian plateau. I imagine that in a more humid climate is not so much.
Make use also a good olive oil for frying.
Like all fried pastries, fried empanadillas are best when freshly made. However the baked variety can be eaten cold. The patties can perfectly be reheated in the oven (nooooo, don't ever microwave the, they get soggy).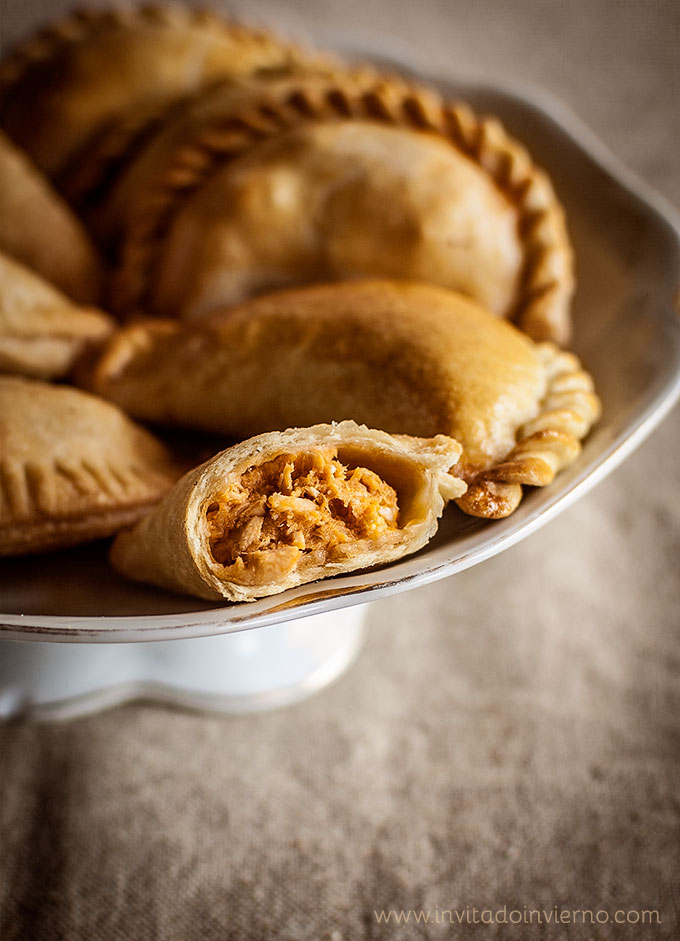 I love traditional regional Spanish cooking, the more the older I get. Going back to my roots.