These delicious spicy meatballs are in fact a Sephardic recipe. I don't know why Sephardic cuisine calls my attention so much. Maybe because it always reminds me of recipes I know, but with a different and special touch. And with very pure flavors. This recipe comes from a book of Sephardic recipes by Ana Bensadón. Actually the recipe name is meat sausages, but what will be a sausage be made of if not of meat?
This recipe caught my eye because it uses a special type of ground pepper called ñora, slightly different from the most common sweet pimentón. But I bought some dried ñora peppers, removed the seeds and crushed in a grinder. And the sauce was amazing, I can tell you. I took the liberty to add some sauteed onions as a base to the sauce to give it some body, because I thought that with the only addition of the liquid, the cumin and the paprika it would be too runny.
School of Tapas: Spicy meatballs
Small spicy meatballs with pepper sauce
Ingredientes
750g of minced beef
3 garlic cloves
1 medium egg
Breadcrumbs
100g virgin olive oil
1 medium onion
2 tablespoons sweet pimentón (or 3-4 sweet dried peppers, ground)
1 tablespoon crushed cumin
250 ml beef broth
Instrucciones
First make the meatballs. Mash the garlic well in a mortar. Beat the egg and add the mashed garlic to mix well. Add this seasoning to the ground beef and mix well with your hands or with a fork. Set aside.
To make the sauce, pour half the olive oil in a pan, heat to low and stir-fry the finely chopped onion. When wilted, add the sweet pimentón and the crushed cumin, and toss to mix, just a few seconds as the pimentón can develop a bitter flavor if too toasted.
Add the broth and process if you want the sauce to be smooth. Set aside.
Shape the meatballs, small and oval, a bit like smallish croquettes. Salt them and roll them in breadcrumbs. Fry in batches in the remaining olive oil in a pan where you can fit all the meatballs.
Remove all the oil from the pan (remember the sauce already carries olive oil), clean the burnt breadcrumbs that may remain, and add all the fried meatballs along with the sauce.
Salt to taste and cook on low heat for about 10-15 minutes, not longer, so that the sauce is reduced slightly and the flavors start to meld.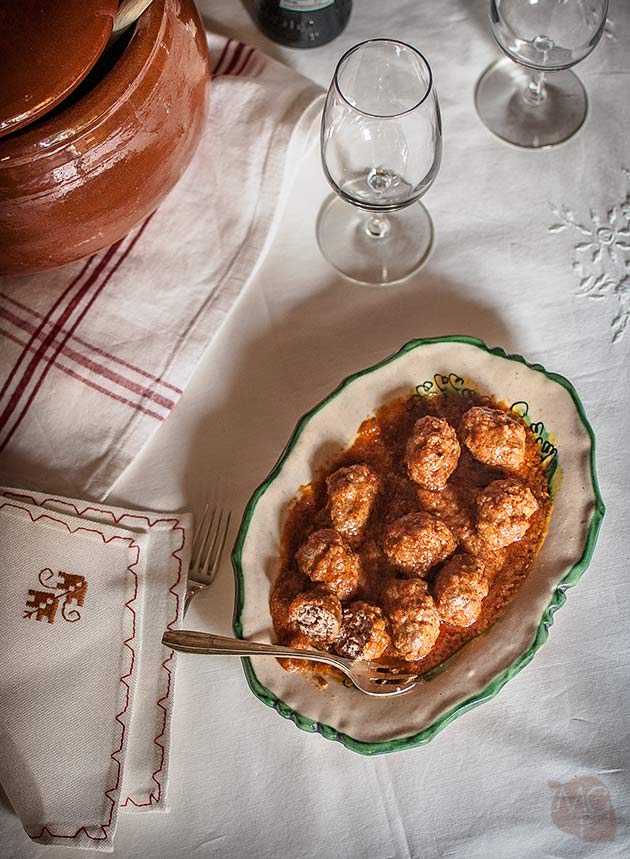 Do not be put off by the amount of cumin, which is a fairly assertive spice. The mix with the pimentón and the meat flavors is delicious, and the taste of cumin does not dominate. Like all hearty stews, these spicy meatballs are a lot yummier the next day when the flavors have settled. And of course they are great in small tapa portions, just place a few in a barqueta, the small oval dish you can see in the photos, along with a glass of manzanilla… Prepare some country bread for dunking in the sauce, nothing could be better in this cold…