That's right, tortilla española. This famous tapa at last after a long hiatus. Spanish tortilla is one of the few dishes that can be undoubtedly found all over Spain, if not the only one. It's so interspersed in our identity that no region can claim to be the cradle of this ubiquitous dish or tapa. And as with every traditional dish, every family claims to prepare the ultimate version. Much debate goes on about the size to which the potato should be sliced, the kind of potato to be used, the seasoning, the degree of inner "runniness" (more cooked, more raw), with onion or onionless… it goes on and on. But the fact is that no matter how it's made, it is a true favourite on all tables and at all Spanish homes, genuine comfort food. And by the way, my mother makes the best tortilla ever, of course…
And it's not so difficult to make. Accurate doneness and seasoning take practice, but the result will always be edible, after all… Spanish tortilla is basically nothing more than potato, egg and salt. Some people claim that tortilla should also include some onion and that is a very common addition too, as it gives it a tasty twist that I also love, therefore I'm including this option in the directions. But let's get to it:

School of tapas: Spanish tortilla or tortilla española
Spanish potato tortilla, a pie-like omelette of potatoes fried in olive oil
Tipo de receta:
Appetiser
Ingredientes
3 medium potatoes (waxy potatoes preferred)
5 medium eggs
½ onion (optional)
Salt to taste
4 cups (minimum) virgin olive oil for deep frying
Instrucciones
Peel and slice the potatoes finely (see the photos). Peel and slice the onion if using.
Heat the olive oil in a deep frying pan or in a deep-fryer, to low-medium. Add the potatoes (and onion). The potato must be poached gently, not really fried. It is essential that the potato slices don't form any hard skin (nothing near potato crisps), they must be overly soft in the end. The poaching can take anything from 5 to 10 minutes, depending on the type of potato. Turn them over once in a while with a slotted spoon if not using a deep-fryer. When done, drain them from the oil and set aside.
In a large bowl, beat the eggs thoroughly and add the salt. I have my own rule of thumb for the amount of salt: one large pinch per egg, plus another one for the potatoes... sounds silly, but it works for me.
When the potatoes have cooled down a bit, tip them into the bowl and mix well with the eggs. You can cut with a fork through the potatoes to make the slices smaller to better blend with the eggs. Let the mixture stand for 10 minutes, the potatoes will absorb some of the egg.
Prepare a heavy bottom non-stick skillet that has just the right size to hold the mixture, it must serve as a mold to shape the tortilla. You need to form a cake that is something in between 1 and 2 inches thick. Brush it with olive oil and heat on medium-low.
Cook the tortilla on low-medium heat so that it doesn't burn on the outside while it's still too soft on the inside, at least 5 minutes. Run a spatula around the edge to make sure it's not sticking. Then flip it over (that's the most interesting stage): carefully slide it on a plate large enough. Then, while you're holding the plate on one hand, turn the skillet upside down and place it on the plate. Flip the plate-skillet assembly over and cook the other side for another 5 minutes.
Slide onto a plate and serve.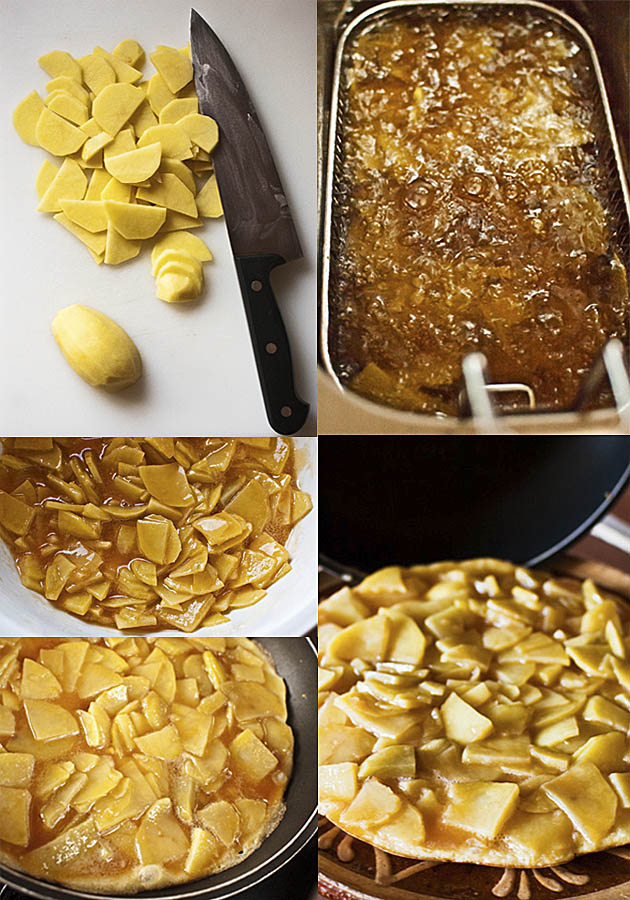 Let me tell you something: frying in virgin olive oil is a must. It's a sin not to cook Spanish tortilla in olive oil, be warned. And if you don't use olive oil, don't tell anyone, it could be life-threatening. Also remember: practice makes perfect. It's easy to make an edible tortilla, but my friends, making an outstanding one takes superb ingredients and… your whole life. But I assure you, if there's a dish worth mastering, this is it. Enjoy it on a sunny noon.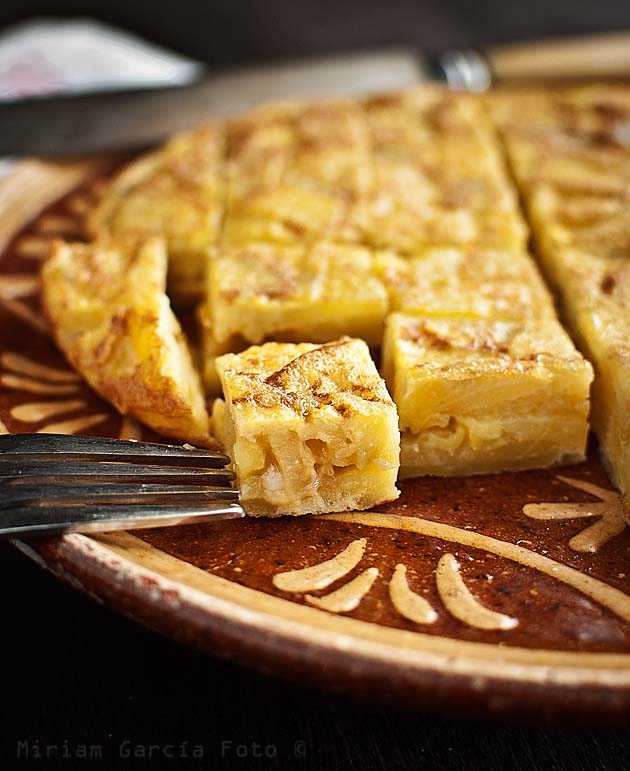 Did you like this post? Share with the little buttons below or subscribe to receive my recipes freshly made by mail or RSS.