In times of great culinary satiety as it happens after Christmas, I always go back to simple and classic dishes like asadillo Manchego, a delicious roasted red pepper and tomato salad typical from the region of La Mancha. Amazing dish. Asadillo Manchego is made with roasted red peppers, cut into pieces and with a bit of plain tomato sauce to bind the peppers, then sprinkled with mashed garlic and cumin seeds. As any traditional dish it has many variations; here I am presenting my own.
My main contribution to this asadillo "my way" is to roast the tomatoes along with the peppers and use the tomatoes conveniently crushed, instead of the more conventional tomato sauce. I certainly deserve a Michelin star fo this… In my opinion it gives the mixture more depth of flavour. Yummy.
School of tapas: Red pepper and tomato salad from La Mancha
Roasted red pepper and tomato salad from La Mancha, Spain
Ingredientes
4-5 ripe red peppers
3-4 medium tomatoes
1 pinch cumin seeds
2 garlic cloves
Virgin olive oil
Salt to taste
Instrucciones
Start by roasting the peppers and tomatoes. Put them on an oven tray and roast them at 180º -190ºC. Roast the peppers until they are browned on all sides and the skin is blackened and loose. Transfer the peppers to a lidded pot and let them cool completely (in Spain we say they "sweat"). This makes peeling them a lot easier.
Transfer the roasted tomatoes to a colander and let drain.
Once the peppers are cool, peel and chop to your liking. Set aside.
Let the tomatoes drain to remove as much liquid as possible (1). Skin the tomatoes and crush them in a powerful blender or a food mill to get rid of the seeds. Salt the sauce to taste.
Place the peppers in a dish and add the tomato sauce. Salt generously because the peppers are very sugary.
Peel the garlic and mash in a mortar (2). Add the pinch of cumin and olive oil to taste to make a tasty dressing. Get yourself a good loaf of bread and enjoy.
Notas
(1) If you hate the idea of getting rid of the liquid, which carries much tomato flavour, crush the tomatoes and reduce the sauce a little on low heat, because otherwise the sauce would be too thin.
(2) I like my dressing with a fierce garlic flavour, but if you do not like garlic as much as me, use one clove instead of two.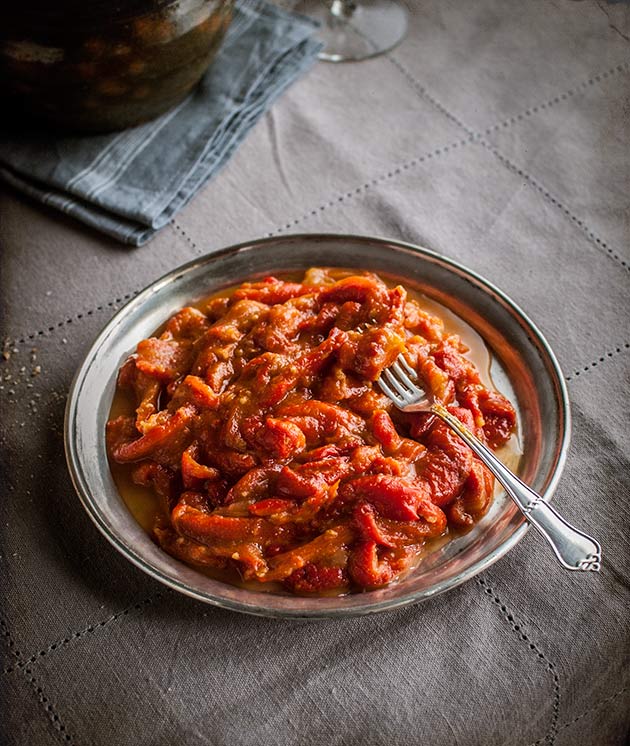 This hearty roasted red pepper and tomato salad keeps very well in the fridge, for up to one week, so I usually make a lot of it. Delicious at any time of the day, as a tapa or as a starter with some fish preserve…