With brava sauce Madrilenian style I mean. Patatas bravas or potatoes with fiery sauce are a very popular tapa all over Spain, with lots and lots of regional variations. The potatoes are cut in chunks and deep-fried in olive oil or boiled, then bathed in a hot sauce. The brava sauce very often carries tomato, but not in the patatas bravas served in Madrid. No, in my hometown the healthy red color of the sauce derives from pimentón, the Spanish paprika powder. Pimentón sweet or hot is a culinary treasure. As the weather is already perfect for eating tapas on a terrace, I prepared patatas bravas and ate them at my own terrace.
This sauce then is made with garlic, chilli, flour, paprika and a lot of olive oil. In short, it is a roux mainly flavored with pimentón. The result is a thin, smooth and hot sauce. Instead of using chillies for spiciness I preferred to use hot paprika, which is one of my many weaknesses. Bear with me.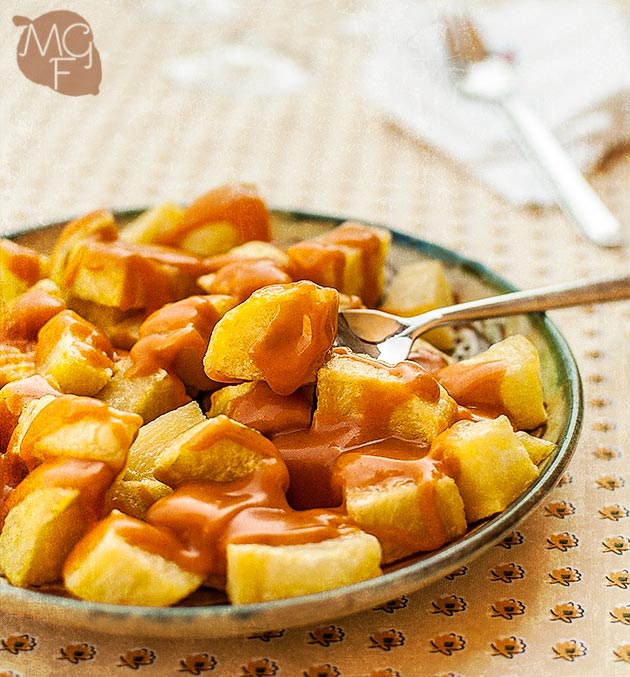 School of Tapas: Patatas bravas Madrilenian style
Typical patatas bravas, Madrid style with pimenton
Ingredientes
Brava sauce
4 cloves of garlic
150 ml of olive oil
100 g plain flour
½ liter of water
1 dash of fino wine (or manzanilla, optional)
1 tbsp sweet pimenton
½ tbsp hot pimenton
Salt galore
Potatoes
5-6 medium firm potatoes
Olive oil for frying
Instrucciones
Pour the olive oil in a pan and heat to low. Peel the garlic cloves and fry them till golden.
Add the flour and stir well to fry it evenly. Stir-fry a couple of minutes.
Then add both pimentons and toss to combine, sautéing again a couple of minutes, but no longer as the pimenton turns bitter if cooked in excess.
Add the water (and wine if used), salt it thoroughly, mix well and let the mixture simmer and evaporate, until it starts to thicken.
Meanwhile, peel the potatoes, cut into chunks and fry in abundant olive oil till cooked through but not very golden. Drain them well and set aside on a plate.
Process the sauce to crush the garlic, test for seasoning, add salt if necessary and now you're ready to serve the brava sauce on your potatoes.
Pour the sauce on the potatoes with magnificence or frugality, according to your personality. Serve immediately with a chilled beer or a glass of wine.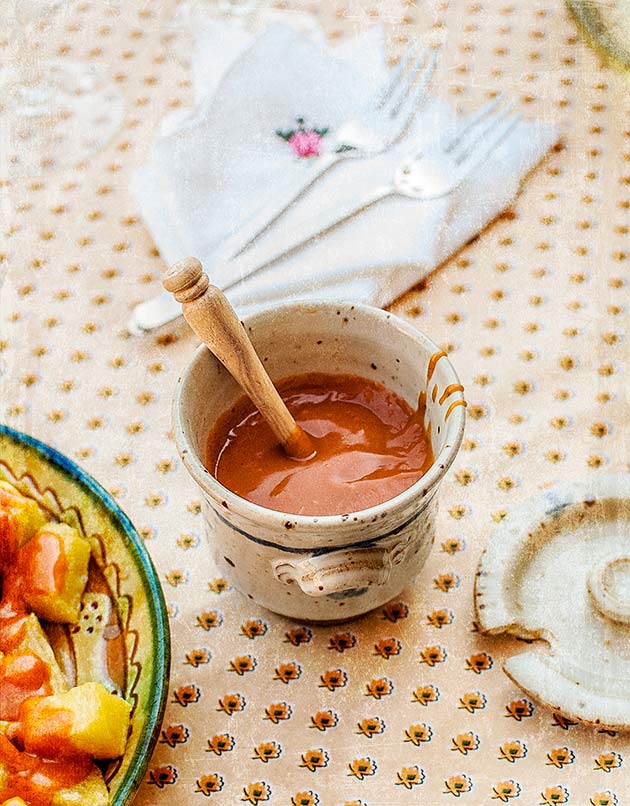 If you have a terrace of your own, sit on a comfortable chair. Pick a potato bathed in salsa brava. Take a sip of beer or wine. Enjoy. Repeat.