And pine kernels and bacon, to round them off. Savory muffins are a French thing. In various areas of France they eat a lot these delicious savory cakes dotted with different garnishes like vegetables, charcuterie, mushrooms, olives, nuts… almost anything you can think of. These savory cakes or muffins are oddly enough disliked by some people, because the "cake-sweet" concept almost runs in our blood. Some will make faces when they taste them. There are even some that will not just make faces, but they will ask you what sort of crap is that. Please, open your mind.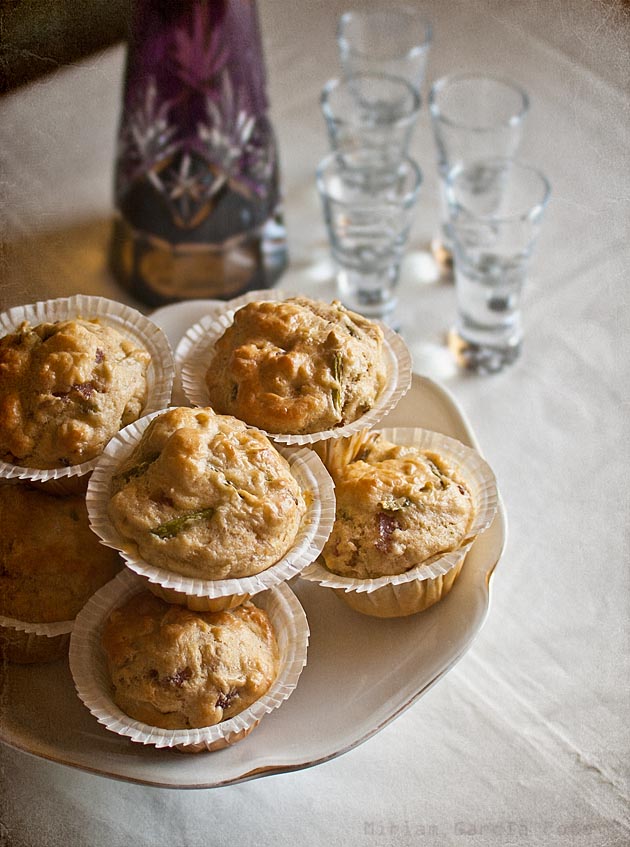 I think they're indeed worth trying, and anybody can make them, no matter how kitchen-clumsy you are. They are quick breads that only rely on baking powder for rising. Therefore they are super easy and also very effective, perfect to bring to friends, to a picnic, or as a homemade snack with a good sherry. I decided to prepare the cake recipe in muffin size for a change. And because if you eat smaller portions it appears you eat less, ahem.
Savory muffins with asparagus and cheese
Savory muffins with asparagus and cheese, French style
Ingredientes
20g olive oil
100g whole milk
3 eggs
¾ tsp salt
Pepper to taste
200g all-purpose flour (though spelt flour is great for savory cakes)
15g baking powder
100g green asparagus
50g manchego or parmesan cheese
50g pine kernels
100g bacon
Instrucciones
First prepare the garnishes: grate the cheese, dice the bacon and microwave it 1-2 minutes, boil or stir-fry the asparagus cut into short pieces (I prefer them fried, I find them much tastier).
Mix the eggs, milk, oil, salt and pepper.
Sieve the flour and baking powder and add to the liquid. Mix very briefly, just until you don't see many flour streaks. [u] Do not overmix so as not to develop much gluten[/ u], otherwise the result will be a heavy cake. I use my Thermomix, but with a very brief mixing, just a few seconds.
The garnishes are added now: the bacon drained from most of its fat, the asparagus also well drained, the pine nuts and the grated cheese. Mix well but slowly.
Preheat the oven to 180°C / 160°C (fan).
Fill the paper cups placed in muffin pans up to ¾ of the height. When the oven is hot, put the pans in and bake 20 minutes.
Transfer to a cooling rack. And devour without mercy.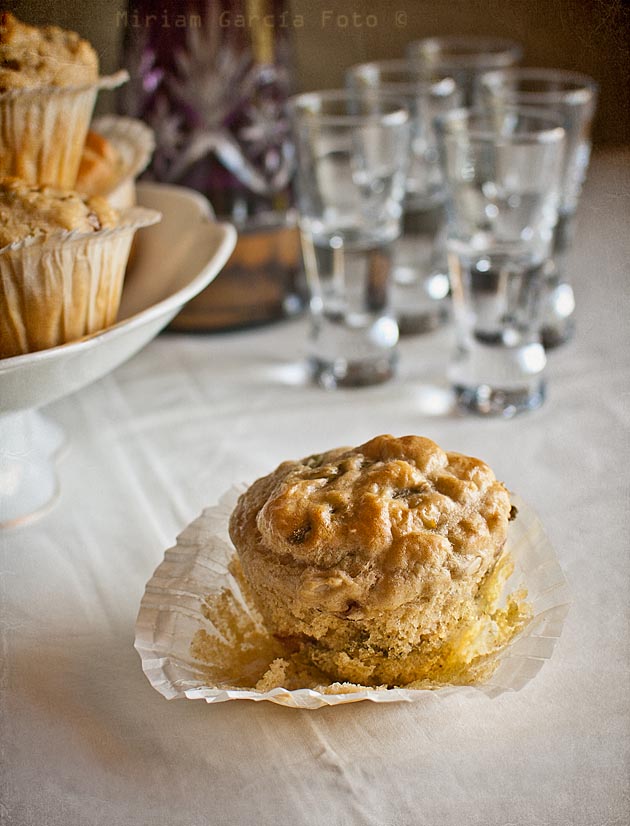 This batter can also be used to make a whole cake, but keep in mind you'll have to increase the cooking time to 30-35 minutes at least, and conversely, you can use it to make mini muffins, which are super cute for gifts. As I note in the recipe, always remember not to over mix the batter or you will get a brick because of excessive gluten development. And although I have not include any photo of an open muffin, they were soft and fluffy. Yum.
Did you like this post? Share with the little buttons below or subscribe to receive my recipes freshly made by mail or RSS.