I prepared this dish with Spanish red chili peppers, called guindillas. Guindillas are thin elongated peppers, only very mildly hot. Spanish cuisine sports no really hot dishes, only spicy, and this spiciness has nothing to do with that of other cuisines like the Mexican and South Asian. Guindillas are typically eaten green and pickled or ripe red and dried. In fact I had never before eaten them fresh, but I must say they were delicious, with a bursting sweetness at first, followed by a mildly hot undertone… Spanish mild guindillas can of course be substituted with any hot pepper of your liking.
This recipe is inspired by this one from Martha Stewart's site, where regular peppers are stuffed with spicy and hot basmati rice. I made the basmati rice mild and chose spicy peppers instead. How clever of me… And it is so easy to make that even my 12-year old could make it.
Red hot chili peppers stuffed with rice
Mildly hot Spanish peppers stuffed with basmati rice
Ingredientes
12 fresh red chili peppers
½ onion
1 large tomato
2 cloves garlic
¾ tsp ground garam masala
2 tbsp virgin olive oil
½ cup basmati rice
2-3 cups water
¾ tbsp salt
1 tbsp raisins
1 tbsp pine nuts
Instrucciones
Basmati rice
Start by making the sauce. Dice the onion and stir-fry in the olive oil until wilted and caramelized.
Peel the garlic and mash it, add it to the onion, toss it to fry.
Skin and deseed the tomato, cut into small pieces and add to the sauce. Stir-fry everything until the tomato is completely soft.
Then add the ground garam masala and toss to cook it a bit.
Add the rice, water and salt. Cook 14 to 15 minutes until al dente, not cooked through, as it will cook further in the oven inside the peppers. When almost ready, add the raisins and pine nuts. Turn off the heat and allow to cool covered.
Cut the cap to the peppers and discard. Use a teaspoon to fill the peppers with the rice (there is not much room, certainly).
Place the stuffed peppers on an oven dish where they fit snugly, add a couple tablespoons of water and bake in the oven at 175° (fan)/195º, covered with foil. Bake them 30 minutes.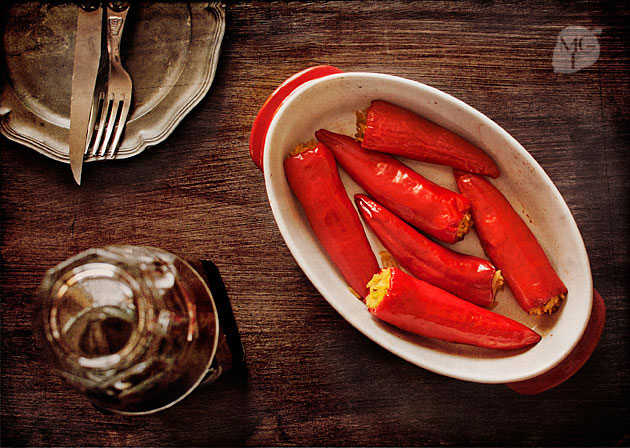 Tips
A trick I use to fill the peppers is to microwave them briefly, just until they begin to soften. They become more flexible and can be stuffed more easily. Although you've got to be careful not to overcook them. It also allows to somewhat reduce the baking time. Convenient.
Oh, and these stuffed peppers are equally good at room temperature, therefore they can be prepared in advance. They're great for picnics and barbecues.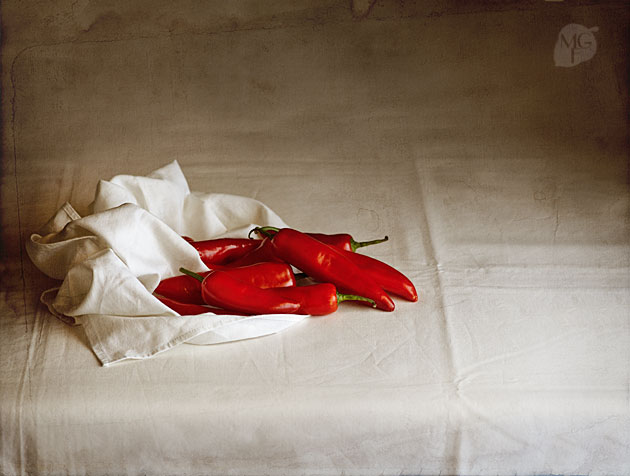 Did you like this post? Share with the little buttons below or subscribe to receive my recipes freshly made by mail or RSS.