Murcia is a region by the Mediterranean, on the south east corner of Spain, well known for its wonderful and plentiful vegetable produce. Therefore it is an area where salad recipes abound. This mojete huertano, meaning something like orchard dip, is a very juicy salad made with char-grilled or scalded fresh tomatoes, onion, canned tuna fish, hard-boiled egg and black olives.
This salad is most often made using canned peeled tomatoes, which are rather popular in Spain. But being that I had some wonderful farmer tomatoes, I decided to follow Mrs. Claudia Roden advice and char their skin in the oven.
Murcia style salad or mojete huertano
Simple salad of tomatoes, tuna, hard-boiled egg and olives, typical from the Spanish region of Murcia
Ingredientes
4 medium tomatoes
1 chunk of diced onion
1 hard-boiled egg
1 can of tuna fish in oil
A good handful of black olives
Virgin olive oil to taste
Sherry vinegar to taste
Salt
Instrucciones
Char the tomatoes under a hot grill until their skin is black and loose on all sides. Allow to cool and peel.
Cut the tomatoes in chunks, removing the hard zone around the stem, and put them in a bowl with all the juice they released. Add the onion. Sprinkle with salt.
Add the vinegar and oil, and toss to mix.
On top of everything add the chunks of tuna, the boiled egg and the olives. You can add a little bit more salt on the egg.
Serve with a good bread for dipping.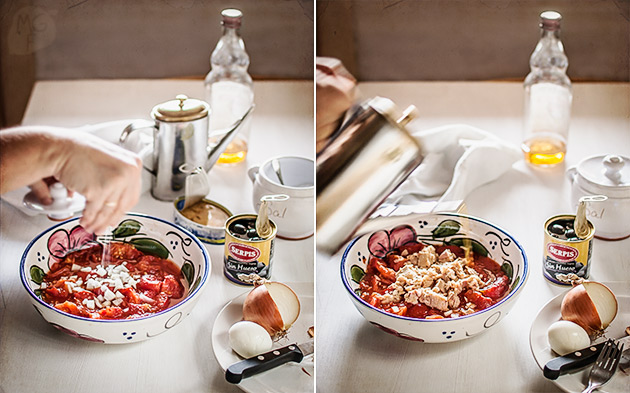 This Murcia style salad-dip supports more variations, some people add fresh fish, some capers… I prefer mine simple like this recipe, I'm not very fond of salads with a gazillion ingredients. And dipping bread in the tomatoes juice is a must. I encourage you to make this salad before the real cold starts, while you still have time to catch some good tomatoes to make it.
Did you like this post? Share with the little buttons below or subscribe to receive my recipes freshly made by mail or RSS.