Well today it's bread time at the blog, specifically English muffins day. In Spain we mostly know American style muffins, that certainly do not have much to do with these. So I have to explain my fellow citizens that they are not the same. Every time I make them, ahem. The English are always different. Or they say that it is the Americans who are different. Whatever.
These English muffins apparently date from at least the 18th century (I can picture Mr. Darcy eating them. You too?). I love that they can be baked on a pan, it makes my life easier.
One last warning before the recipe: English muffins should have a characteristic honeycomb interior, full of nooks and crannies that are essential for the butter to slip in… yum. For the little holes to look best it is essential to open the English muffin with a fork. Otherwise the ghost of Christmas past will come to haunt you.
English muffins
Typical English muffins, round tender rolls baked on a pan
Ingredientes
With yeast
370g strong flour
300g water
2g dried baker's yeast (6g fresh yeast)
1 teaspoon honey
1 teaspoon salt
With sourdough starter
200g sourdough 100% hydration
270g strong flour
200g water
1 teaspoon honey
1 teaspoon salt
Instrucciones
With sponge
Prepare a sponge the night before with 100g of flour, 100g of water and all the yeast. Stir, cover and let ferment overnight at room temperature.
The next day, add the sponge to the remaining ingredients: 270g of flour, 200g of water, honey and salt. Knead by hand or machine and let ferment well covered until double in bulk.
Heat a skillet over medium heat. Use pastry or egg rings as seen in the photo, of 7-8cm. Smear the rings with butter or oil and place them on the pan to warm. If the pan is not nonstick, sprinkle some cornstarch so that the muffins will not stick.
Take a portion of dough with your hands and place it in the ring, it should be no more than 1cm high, because they expand a lot. Fill as many rings as you can fit and let the muffins bake on the heat until the sides look cooked through, then you can lift the molds. Let them brown on the first side, at least 5 minutes. Watch them closely to prevent them from burning. If they get too brown, lower the heat, as the muffins must toast on the outside but still be cooked through inside.
Turn the muffins and bake them another 5 minutes minimum. Proceed until you finish all the dough, greasing the rings every time. Place the muffins on a cooling rack.
Without sponge
To make the muffins with the direct method use twice the instructed yeast, and mix all ingredients before you start kneading. Just like that.
With sourdough
To make sourdough muffins mix all ingredients well, then knead. Yes, it will take them much longer to ferment than with store-bought yeast, depending on the power of your sourdough. But in return you'll have a much stronger flavor.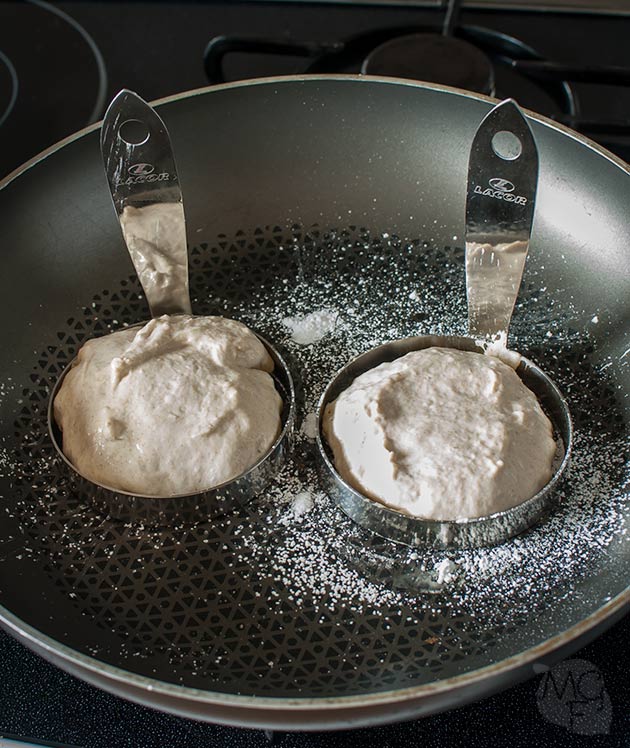 I used an organic spelt flour that absorbs quite a lot of water, so the dough was a tad dense and the muffins came out a little thick. The dough should be smooth and downright tacky, unwieldy. But this organic flour gives the muffins that lovely cream-colored crumb and their very rustic appearance, I love their primitive look.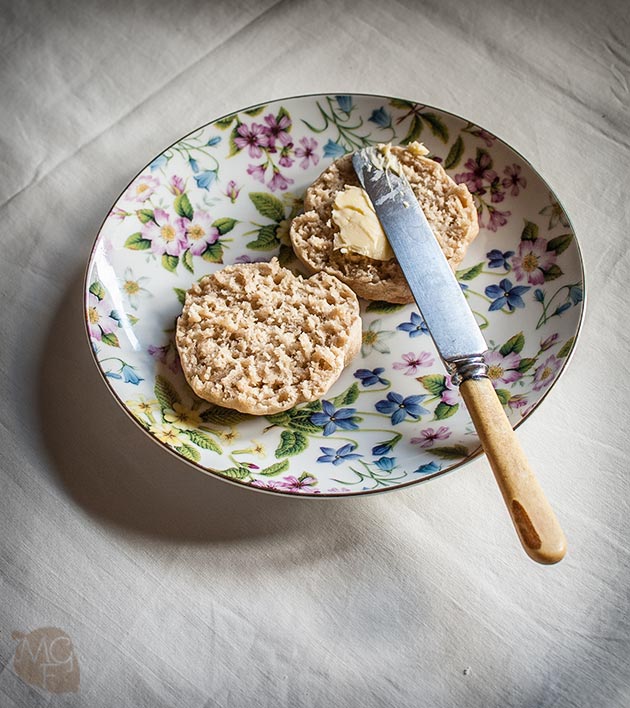 Will you excuse me? I'm feeling the urge to make eggs Benedict…