I am very fond of cocas, they are pizza-like pies, typical from the Mediterranean area of Spain. They are different from the Italian pizza in that the dough usually carries a lot more fat and in that they use no cheese in the ingredients. Therefore when I got hold of some butternut squash that a friend gave me, I thought I would use them in a butternut squash pie or coca de calabaza, an autumnal coca. And so I did. For this coca I used a dough made with olive oil, that is rolled out thinly. It turns out pretty fatty. But what would life be without fat?
To get a more flavorful dough I used spelt flour, which I love. It was a success and I recommend to make this dough because it is indeed uncomplicated.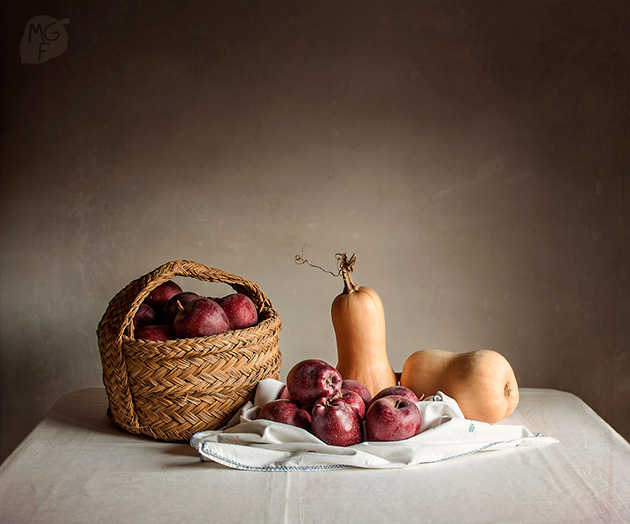 Butternut squash pie or coca de calabaza
Flat bread typical from the Mediterranean region of Spain
Ingredientes
150g virgin olive oil
150g white wine
1 tsp salt
10g dried baker's yeast (or 30g fresh baker's yeast)
450 toa 500g spelt flour
1 medium butternut squash
Salt to taste for the topping
Virgin olive oil to drizzle
Sweet pimentón for sprinkling
Ground cumin for sprinkling
Instrucciones
Put all ingredients in a bowl and mix. Start by adding the lesser amount of flour given, and then add some more if the dough is too sticky, otherwise you could end up with a brick in your hands.
Knead by hand or in a stand mixer, whatever you prefer. It is not necessary to knead the dough to a great extent as it is so fatty that the gluten will not develop very much anyway. Leave it to proof.
When the dough is fermented (no need for it to double in bulk), degas it by pressing it on the counter with the palm of your hands. You do not need to flour or anything, as the dough oozes fat. Stretch or roll it with a rolling pin to the size of a cookie sheet and lay it on it.
Peel and cut the squash into slices. Lay the slices on the dough as you see fit and salt the squash thoroughly, as it is very sweet. Brush thoroughly with olive oil, then sprinkle with the pimentón and the cumin, if you like.
Bake the coca 20-25 minutes in an oven preheated to 210º (no fan) / 190° (fan). Take it out and devour mercilessly. That's all there is to it.
These cocas keep beautifully at room temperature one day at most, well covered in aluminum foil, provided that it is not summer. I always like to reheat them slightly before serving, but they are also very good cold. In short, this butternut squash pie or coca de calabaza is good in any possible way you can imagine. That's why it disappears in no time.
Did you like this post? Share with the little buttons below or subscribe to receive my recipes freshly made by mail or RSS.