My intention was to make a vacherin, but in the end these blueberry ice cream mini cakes came to life. Vacherin is a French ice-cream cake that usually consists of two meringue layers sandwiching another layer of vanilla ice-cream and raspberry or other red berry sorbet or ice-cream. You can top it with whipped cream and nuts. As I wanted something refreshing, but less time-consuming than the vacherin, given the scorching heat in my kitchen, I made a delicious ice-cream with blueberries and yogurt and prepared these simple yet amazing ice-cream cakes. The only complicated part it to make the meringue. Because in this heat, turning on the oven is something almost heroic, at least in my kitchen. And no, making this frozen yogurt and blueberry ice-cream is far from complicated.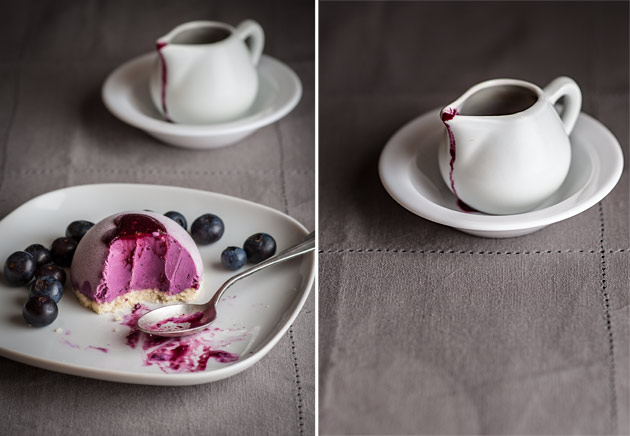 Still you should keep in mind that you need 2 days to make the ice-cream, because I recommend the method of draining the whey from the yogurt I learned from Deeba, of Passionate about baking. She instructs to drain the yogurt in a strainer lined with a cheese cloth one whole day. Removing a lot of the liquid allows for a creamy concentrated yogurt that's a pleasure to freeze.
Blueberry ice-cream mini cakes
Frozen mini cakes made with blueberry-yogurt ice-cream and meringue
Ingredientes
Almond meringue (1)
2 egg whites
1 pinch salt
50g sugar
40g almond meal
8g sifted flour
Yogurt and blueberry ice-cream (2)
180g fresh blueberries
250-300g drained yogurt (homemade is best)
180g sugar
Instrucciones
Yogurt and blueberry ice-cream
The first thing to do is to drain the yogurt, putting it on a colander lined with a cheese cloth (I use a piece of old bed sheet). I often prepare 2 liters of homemade yogurt, leave a portion and drain the rest. Note that the yogurt weight is greatly reduced on removing so much liquid, so that it takes at least 500-600g yogurt to get 300g of concentrated yogurt for the ice-cream. But I assure you it's worth the effort.
Prepare a purée with the blueberries: put them in a saucepan with the sugar and bring to a boil. Simmer 8-10 minutes, not longer. Pass the puree through a food mill to get rid of the skins and pips and let cool.
When everything is cold, mix the yogurt with blueberry puree and put in the fridge.
Almond meringue discs
Preheat the oven to 140°C (fan) / 160°C (no fan). Whip the egg whites with the pinch of salt until stiff. Add the sifted flour and the almond meal. Fold gently into the egg whites. When the mixture is fairly uniform transfer it to a pastry bag and pipe circles on parchment paper, about the size of the molds you want to use (mine are around 8cm in diameter).
Put the meringue discs in the oven and bake about 30 minutes and then turn off the oven and dry them a bit further with the door ajar, another 15 minutes. You don't need the meringue to be too hard. Take them to a rack to cool.
Assembling the cakes
First trim the meringue discs to the size of your molds. I am lucky to have a cutter of the same diameter as my small "bombe" molds, so I use this ring to cut the meringues. Place it on top of each disc and carefully trim it with a knife. Set them aside.
Prepare the yogurt blueberry ice cream as usual in your ice cream maker.
While the ice cream is still soft dose it into the molds with a spoon and place a disc of meringue on top of each. Press carefully so that the ice cream is perfectly glued to the meringue and take the molds to the freezer to harden. Leave them overnight.
Carefully release the mini cakes from the molds (very easy with silicone molds) and leave the mini cakes to temper a bit before serving. You can use some blueberry coulis for garnish, as I did, making some excess of the blueberry purée used in the ice-cream and adding a tad of water.
Notas
(1) The amounts are just enough to make 6 meringue discs of the appropriate size.
(2) You'll make more ice-cream than needed for the cakes, but you won't regret it.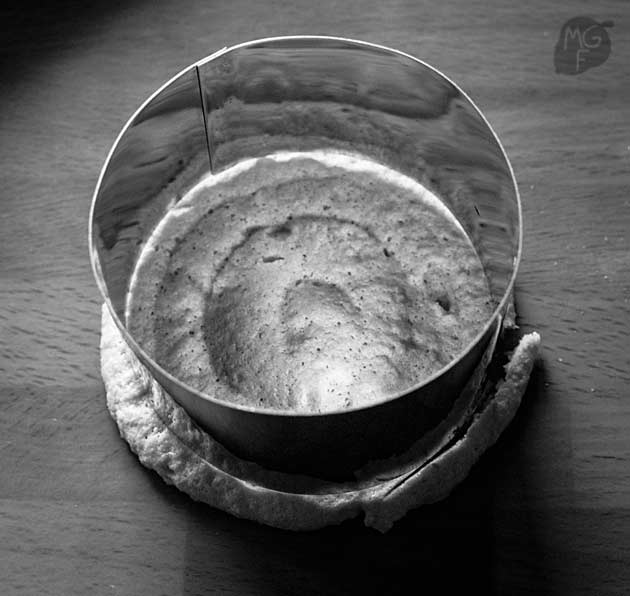 You do not need to have these cute molds to make mini vacherins, flan molds are good enough, although it is true that silicone molds are a lot easier to handle. These ice-cream mini cakes can be made with any other red berry such as raspberries, strawberries, etc.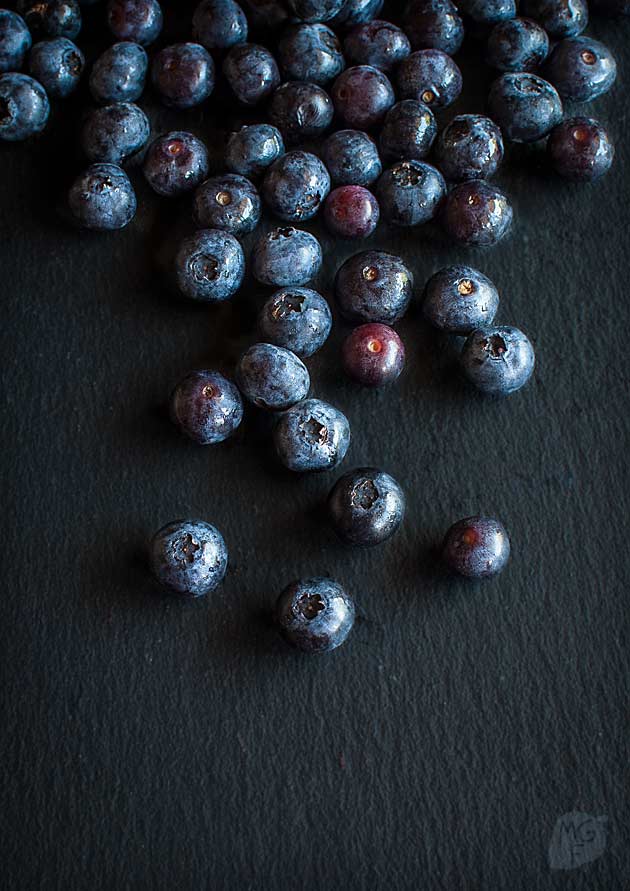 And beware, because this blueberry-yogurt ice-cream is sooo delicious you won't be able to restrain yourself. Mind my words.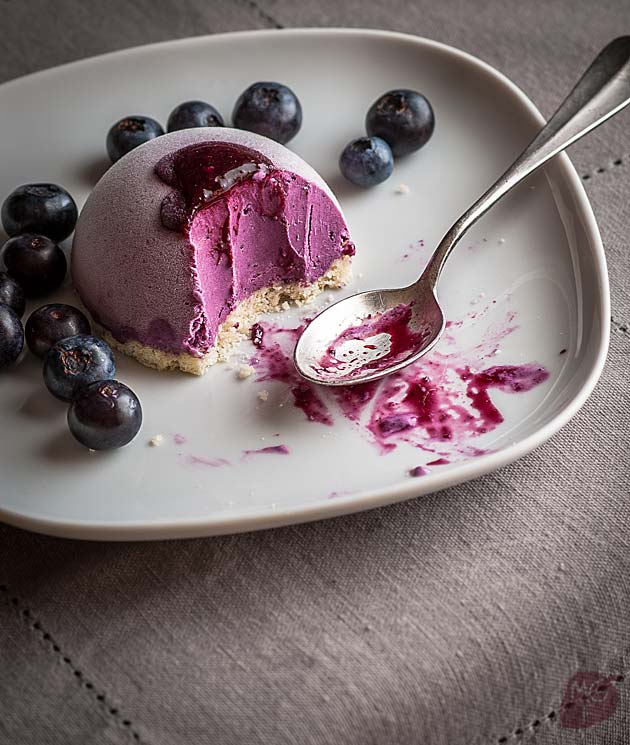 Did you like this post? Share with the little buttons below or subscribe to receive my recipes freshly made by mail or RSS.