Revival is not for the faint of heart. Besides becoming a bit obssessed lately with the soundtrack of my 16-year-old self (like this oldie, Bryan Ferry OMG), I have made these anise-flavoured rings, a recipe from the province of Segovia. A long, long time ago I used to buy some delicious rings sold at the Fuencarral market in Madrid, sweet but with a consistency of dense white bread. They were addictive. I never knew where they came from, these things did not interest me then, but it's been 22 years and I still remember them. There have been people in my life who did not leave as much mark on me as these rings…
That's the thing with getting old, revival begins to take quite some place in your life. You do things you used to do, or that remind you of something past. It is neither good nor bad, it's just the way it is. So when I saw the name of these rings, bread rings, I thought they could resemble the ones I so fondly recalled. Big mistake, my dear. Nothing real is never, ever, like your memories, I can't believe it's still not clear as daylight for you.
Like many, many traditional Spanish sweet recipes these rings use pork lard, but never fear: you won't notice any funny taste in the baked rings. And you must know there was a time when every granny in Spain knew how to make this aniseed-flavoured pastry.
Anise-flavoured rings from Segovia
Ingredientes
6 eggs
210g sugar
200g good quality pork lard
700-720g all-purpose flour
1 dash aniseed liqueur
3-4 drops aniseed oil (optional)
Instrucciones
Beat the eggs with the sugar until it dissolves, no need to make them foam too much.
Add the softened pork lard, and continue beating until the mixture is more or less homogeneous. Then add the liqueur and the aniseed oil, if using.
Add the flour gradually, beating constantly, until you get a soft dough that barely sticks to your fingers. Let stand one hour, covered.
Preheat the oven to 185ºC (fan) / 205°C (no fan).
Take pieces the size of a tangerine (more or less) and shape the rings, of around 7 cm. Place them on sheets of baking paper.
Bake the rings in batches for 15 minutes and transfer to a rack to cool.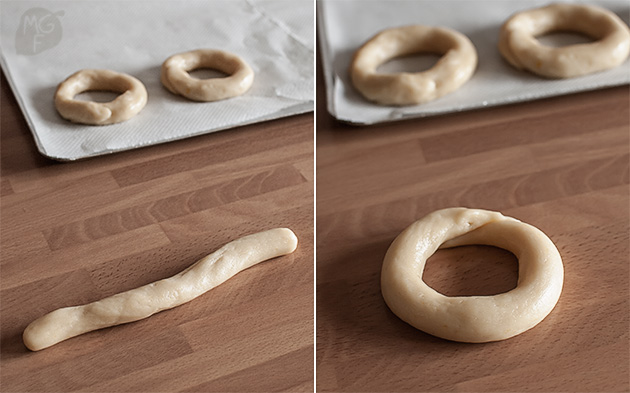 I had to guess the oven temperature, because the recipe is one of those that do not indicate the baking time and refers to "medium temperature oven"… Did they taste like the rings I used to have when I was young and beautiful? Not much, but they were equally good. They are crunchy, not fatty, with a pleasant taste of anise. And you don't have to deep-fry them, which is the most common way to make this type of traditional rings. They come in handy when you need something to accompany a cup of coffee, while watching the rain through the window in good company. Wow.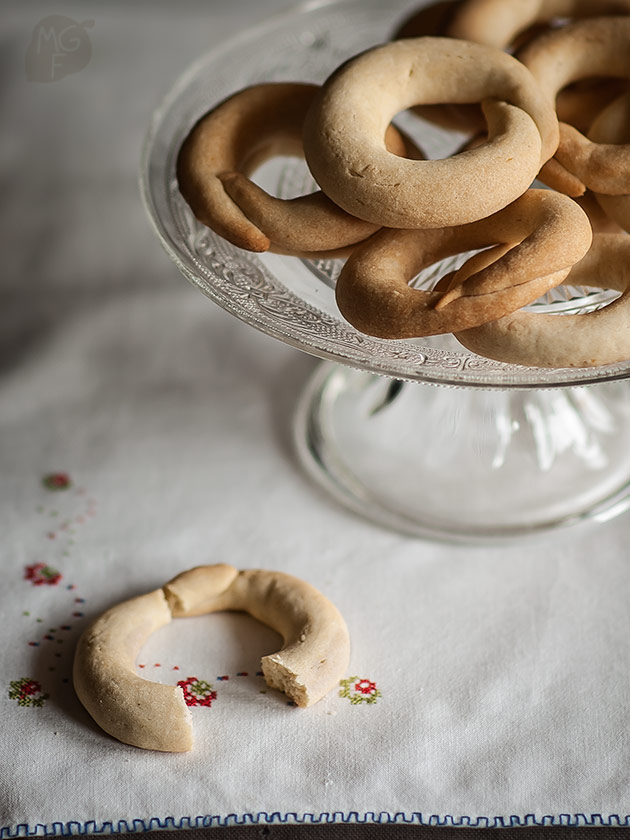 Did you like this post? Share with the little buttons below or subscribe to receive my recipes freshly made by mail or RSS.